Reader's Advisory Form
Not sure what book to pick up next? Fill out the easy form below to let us know a little bit about your reading preferences.
We will build a customized list of titles that we think you will love!
Once we receive your form, our the Hammond Library team will review your answers and select 3 recommendations for you!
We strive to respond to all submissions within 2 business days of receipt.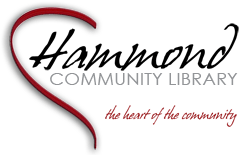 Library Hours
Tuesday-Thursday     9 AM - 8 PM
Friday                           9 AM - 6 PM
Saturday                      9 AM - 1 PM